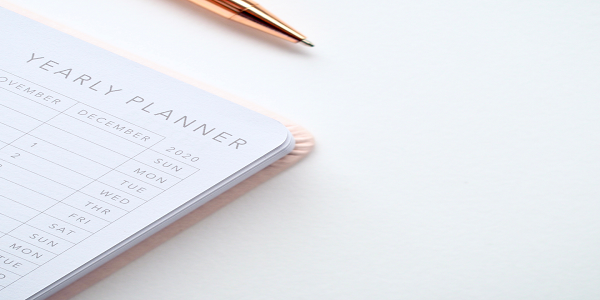 Buy Now, Pay Later: The New Payment Trend
Kimberly Tan
The Buy Now, Pay Later (BNPL) trend is gaining traction in the fintech space. Malaysian consumers are catching up to the hype, most noticeably in e-commerce. How exactly does the BNPL model work, and what makes it appealing to consumers everywhere?
Fundamentally, the BNPL payment method is a form of short-term financing. It enables consumers to make a purchase, and then pay for it later on by splitting the payment into stipulated instalments. BNPL interest rates and fees differ according to providers. Some may even offer zero interest and fees to encourage consumers to opt for their service. From a consumer's point of view, it's microfinancing without the commitment of a credit card.
Granted, credit cards are widely accepted almost anywhere. Lest we forget, the convenience comes at a price: chalking up miscellaneous charges, such as annual fees and foreign transaction fees. No one likes getting a rude shock in the form of a hefty bill with surprise charges. With BNPL, the total cost and applicable charges for a particular purchase are calculated upfront, so you know exactly how much you're paying off.
Depending on the BNPL provider, consumers can set up a repayment schedule that's feasible for them (e.g. 3-month or 6-month instalments). As opposed to a credit card that requires a minimum monthly payment, BNPL's flexible repayment term provides more freedom for consumers to manage their cashflow. The BNPL service doesn't just benefit end consumers. Businesses can now enjoy this solution as well.
Why Businesses Should Tap Into BNPL
In view of the pandemic-induced economic uncertainty, businesses are tightening their belts. The financial impact has hit startups and small and medium-sized enterprises (SMEs) harder than larger firms. Ad spend may be among the first on the budget chopping board for some. However, many did not realise that cutting back on advertising efforts is counterproductive.
Think about it: advertising is a tried-and-true way to get your business out there, and build presence, credibility and relationships with your target consumers. Establishing trust and loyalty takes time, just like how Rome wasn't built in a day. More than just for short-term promotional purposes and consumer acquisition, your advertising efforts also serve as a long-term consumer retention tool.
Consumers' attention span is shrinking, hence the race to stay at the top of their minds has never been more intense. You won't see the effects of cutting your ad spend immediately, but you're at risk of facing revenue loss down the line. Why? Because your competitors are leveraging your absence by pushing their offerings. As cliché as it sounds – when you're out of sight in a competitive business landscape, you'll be out of mind before you know it.
Say Hello To Virtual Credit
We understand our users' need to keep advertising during a crisis, while being mindful of their business expenditures. In a collaborative partnership with Funding Societies, we are excited to introduce Virtual Credit as a new payment option on AdEasy. Launched back in 2017, Funding Societies is Malaysia's largest SME digital financing platform. Registered with the Securities Commission Malaysia (SC), Funding Societies connects SMEs with investors through an online marketplace to increase financing access for SMEs.
What is Virtual Credit all about? It's essentially a financial solution that empowers you to continue advertising without impacting your cashflow. Check out how Virtual Credit can benefit your business:
✔️ Get financing of up to RM30,000
✔️ Transparent, all-in fees of up to 5% interest rate per utilisation amount
✔️ Enjoy up to 90 days repayment term
We all know that placement is key when it comes to advertising. And top spots tend to get booked out quickly. Don't want to lose your preferred ad spaces again? Book offline and online ad spaces in Malaysia on AdEasy first, and then pay later with Virtual Credit. Get started in just a few clicks: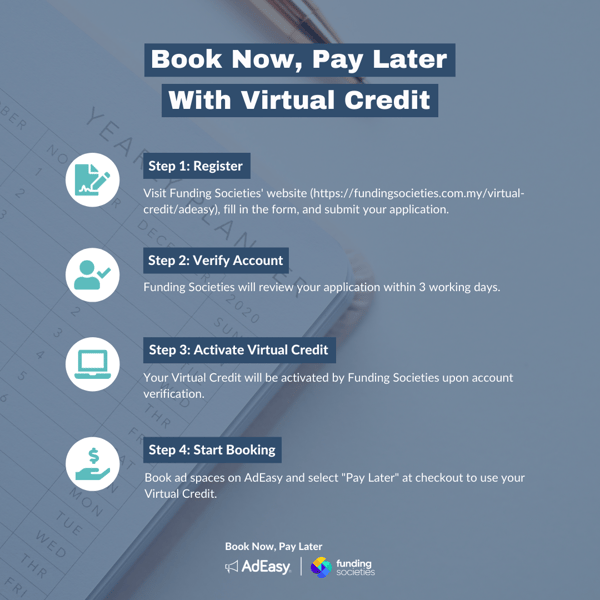 Introducing Virtual Credit, a new way to pay for your ad bookings on AdEasy.
Want to calculate your estimated total repayment beforehand? Check out our handy Repayment Calculator! The payment breakdown is displayed as well, so you know what you're paying for.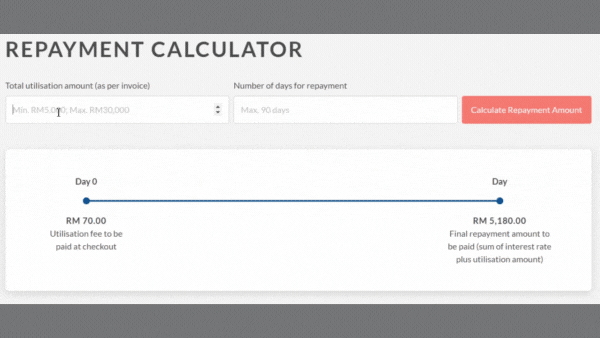 Find out more about Virtual Credit on AdEasy today! Keen to register for Virtual Credit? Visit Funding Societies to send in your application.