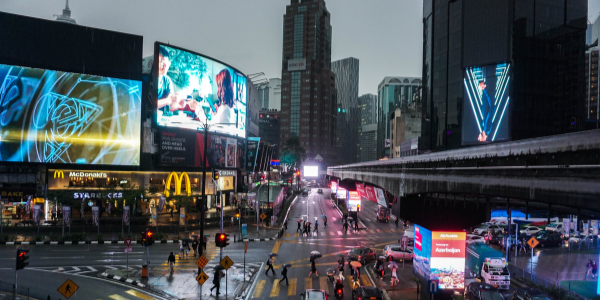 DOOH: A Winning Choice In Your Advertising Arsenal
Kimberly Tan
Vivacious content splashed across a crisp digital display - there's no denying the attractiveness of a digital out-of-home (DOOH) ad. A refreshing take on the traditional out-of-home (OOH) outdoor media, DOOH has gained momentum as one of the fastest-growing advertising media today. And we're going to tell you why you should just DOOH it.
Perhaps you're familiar with the more traditional form of OOH advertising. You know those massive static billboards that catch the eye as you cruise along the Federal Highway? And the printed ads plastered on bus stop shelters? These are examples of OOH formats. On the other hand, DOOH advertising is the digital cousin of OOH. DOOH utilises LED screens to deliver dynamic content to the mass audience. Common DOOH formats in Malaysia include digital billboards, street e-buntings, in-elevator displays, and ambient digital signages.
The biggest difference between OOH and DOOH is you can only display a single printed static image on an OOH ad throughout your campaign period (unless you want to pay more to print and install a new one). As for DOOH, your ad is shown in the form of animated visuals, which brings the wow factor and appeals to the senses. Case in point: the impressive 3D LED execution by Malaysia's premier mall, Pavilion Kuala Lumpur, in conjunction with this year's Chinese New Year celebration.
With the advancement of advertising technology over the past few years, the transition from OOH to DOOH is inevitable. The rapid rise of digitalisation has led to the increase of DOOH panels at high traffic locations, such as Klang Valley and Kuala Lumpur. So, what sets DOOH apart from other outdoor media? And why is it dubbed a game-changer in the advertising landscape? Let's take a closer look.

1. A Resilient Medium
It's a known fact that advertising serves a critical purpose in business. Word-of-mouth alone isn't enough to get the word out about your product or service. While online ads have their kryptonite (i.e. ad blockers), DOOH ads are immune to them. It's pretty much impossible to ignore DOOH ads, unless the viewers look away. Not only DOOH attracts more eyeballs to your ads, it retains your target audience's attention. Of course, the ad concept plays an important factor too, which brings us to the next point.

2. Cost Effective, High Impact Exposure
The best part about adding DOOH into your advertising mix? Having your ad displayed on gigantic LED screens sans production cost and the competition for the audience's attention. As DOOH allocates a specific optimal dwell time for each advertisement (e.g. 15 seconds per ad), your ad enjoys maximum exposure with zero interruption. Amplify your ad further with a brilliant creative - be it a fully-animated display, elements with subtle motions, or a dynamic copy that's shown at timed intervals. At the same time, keep your ad concept clutter-free. Using rich media like videos enables advertisers to tell better stories, and achieve the ultimate goal: getting the brand message seen, heard, and acted upon. Fact: contextually relatable DOOH ads boost effective audience response by 17%.

3. Reach A Massive Audience
Strategically-located at high traffic hotspots such as major roads and highways, commercial hubs, and shopping malls, DOOH is capable of reaching a large number of people across diverse demographics. Want to target a specific group of consumers? You can utilise location-based networks to obtain insights about your target audience and their behaviours via aggregated mobile tracking.
DOOH advertising is essentially the modernised version of the classic OOH advertising. It encompasses the eye-level visibility of OOH ads with elements of agility and analytics, while empowering advertisers to embrace digitalisation. DOOH provides plenty of untapped potentials for all businesses – discover yours here.