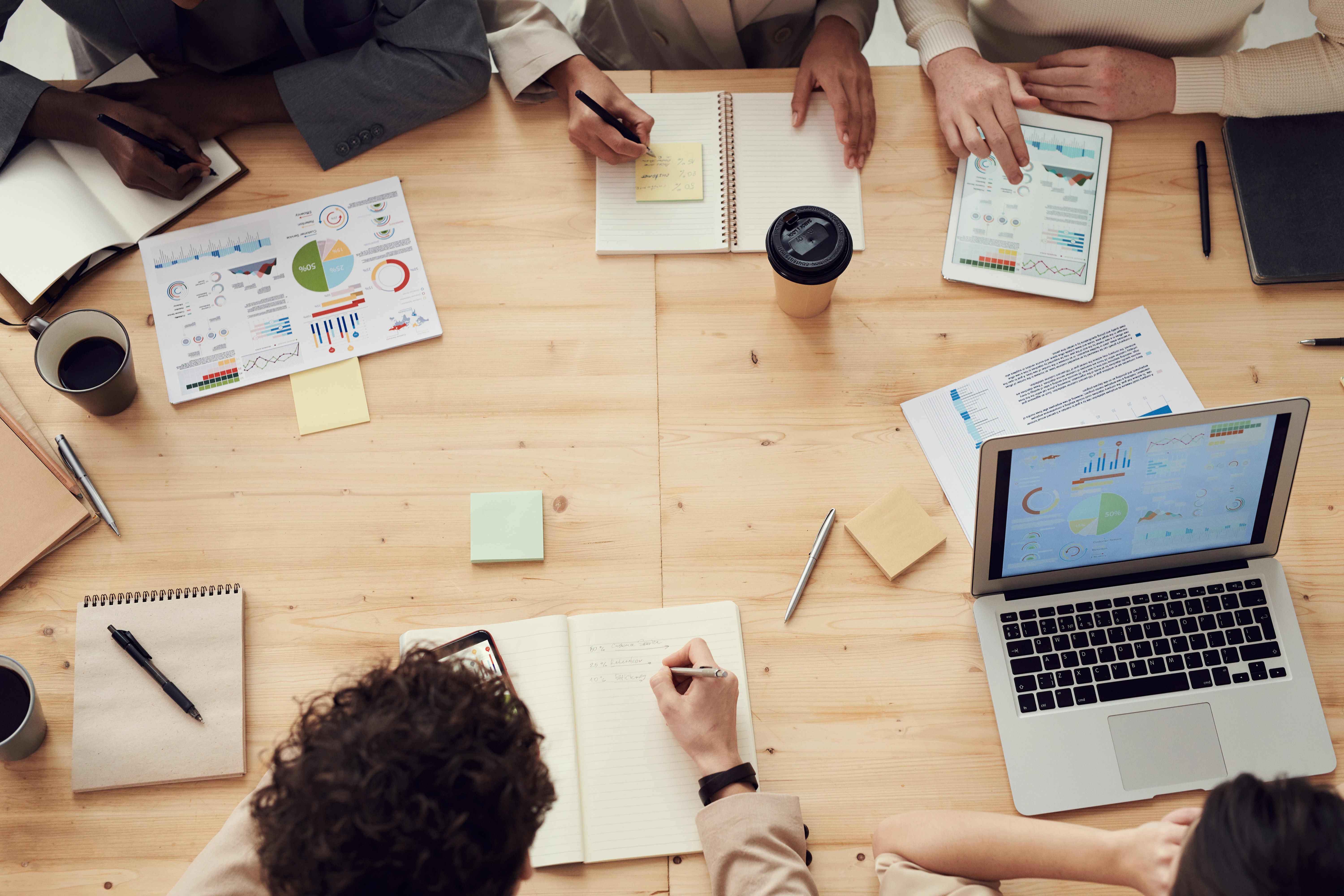 How To Plan Your Ad Campaign In 4 Easy Steps
Kimberly Tan
You have developed a brand new product or an industry-disrupting service. How do you generate buzz especially if you don't already have a loyal customer base? Here's when advertising comes in.
Don't look at your ad spend as an expense. Think of it as a worthy investment for your business. No matter how innovative your product or service is, no one will know about it unless you tell people about it. Advertising's role is to inform and persuade. Coming up with creative advertising ideas and turning them into reality isn't as simple as it seems. It's just a small piece of a bigger picture. Without a solid advertising plan, it's like setting sail with a beautiful boat to an exotic destination, but without a clear route in mind. You may waste time, and lose money down the line.
A thorough advertising plan helps to give you a clear direction, and is useful in allocating resources and organising ideas to ensure your ad campaign is effective. Ready to get started? Here are some quick tips on how to plan an advertising campaign.
1. Set Your Objectives
An important question to ask yourself: What do you want to achieve with your ad campaign? Generate interest in your business? Drive conversions? Build your brand's presence? Make sure your objectives are concrete yet realistic. If you're a new business, you may want to focus on creating brand awareness first before working on increasing sales.
2. Create A Budget
Tracking your business expenditure is a lot of work, but it's necessary. By doing so, it holds you accountable for your finances. Start by listing down all your planned advertising activities and the costs incurred, for instance, booking ad spaces and engaging a creative agency to create your ads. Bear in mind that you may spend more on ad buys during key occasions such as festive seasons and peak sales periods (e.g. 11.11, Black Friday, Cyber Monday, etc.).
3. Identify Your Target Audience
Before you kick off your ad campaign, it's important to know who exactly you are targeting. This does not mean you are disregarding people who don't fit your criteria. Having a well-defined target market lets you channel your advertising budget and brand message towards a specific audience who is more likely to purchase your product or utilise your service. Besides demographics, you should also recognise your customer psychographics to make strategic decisions on which ads to buy, and what ad content to create. Conduct surveys to gather valuable feedback on your product or service, like what makes your offering attractive, and what keeps them coming back for more. Study your existing consumers, and also the potential customers you want to entice.
4. Set The Campaign Period
There are no hard and fast rules on how long you should run your advertising campaign. You may have a 3-month launch campaign, or perhaps a year-long branding campaign. A set time frame is important as it will determine your budget and resources required.
Got your advertising plan all sorted out? Awesome! Now comes the next headache: How do you book your preferred ad space and media type? The typical process of booking ad spaces looks like this: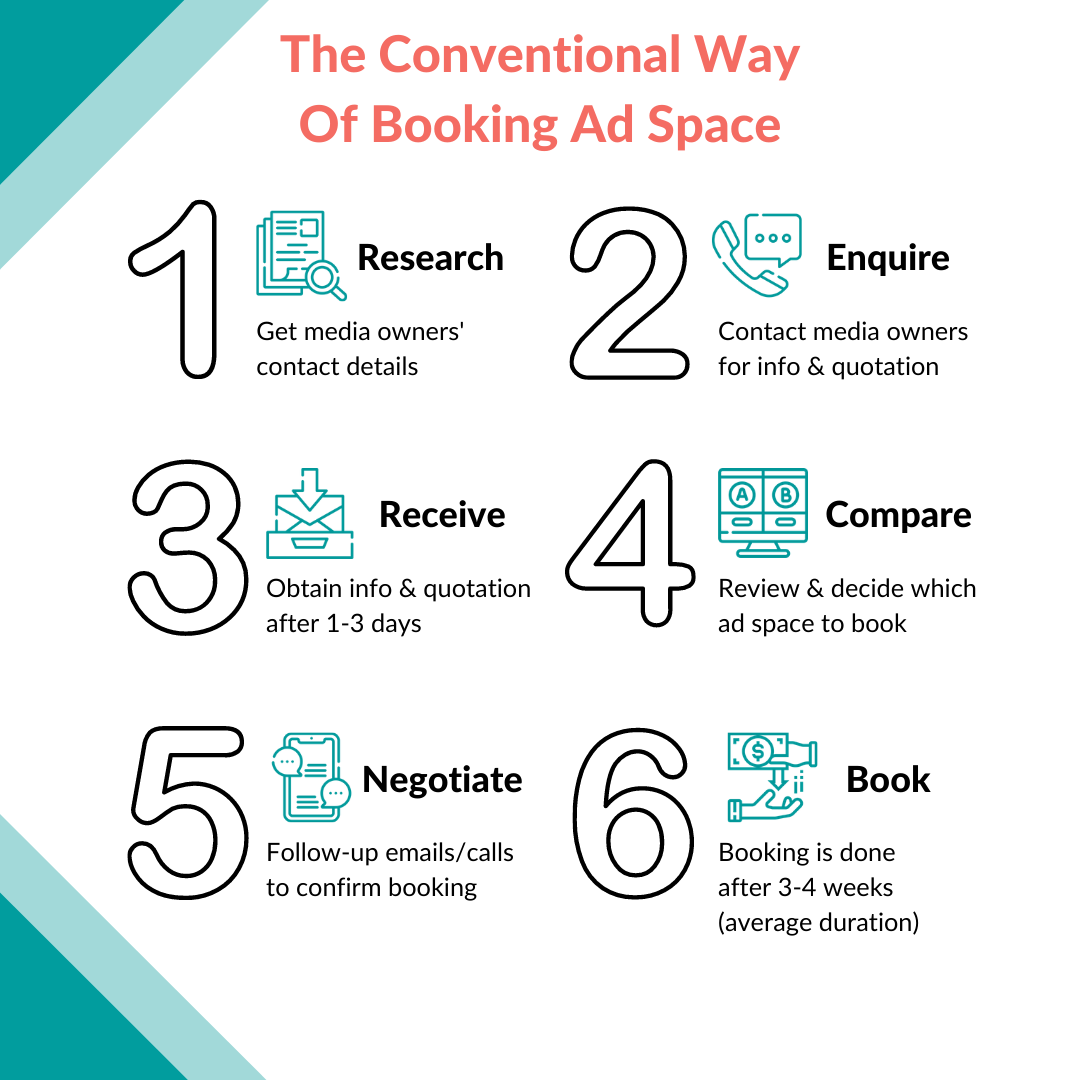 Looks like a lot of work, doesn't it? We agree. Don't you wish booking ad spaces could be as easy as shopping online - where you browse the selections, select your desired ad space, add to cart, check out, and pay securely? AdEasy is the answer. Our online advertising marketplace lets you explore and book ad spaces in just a few clicks!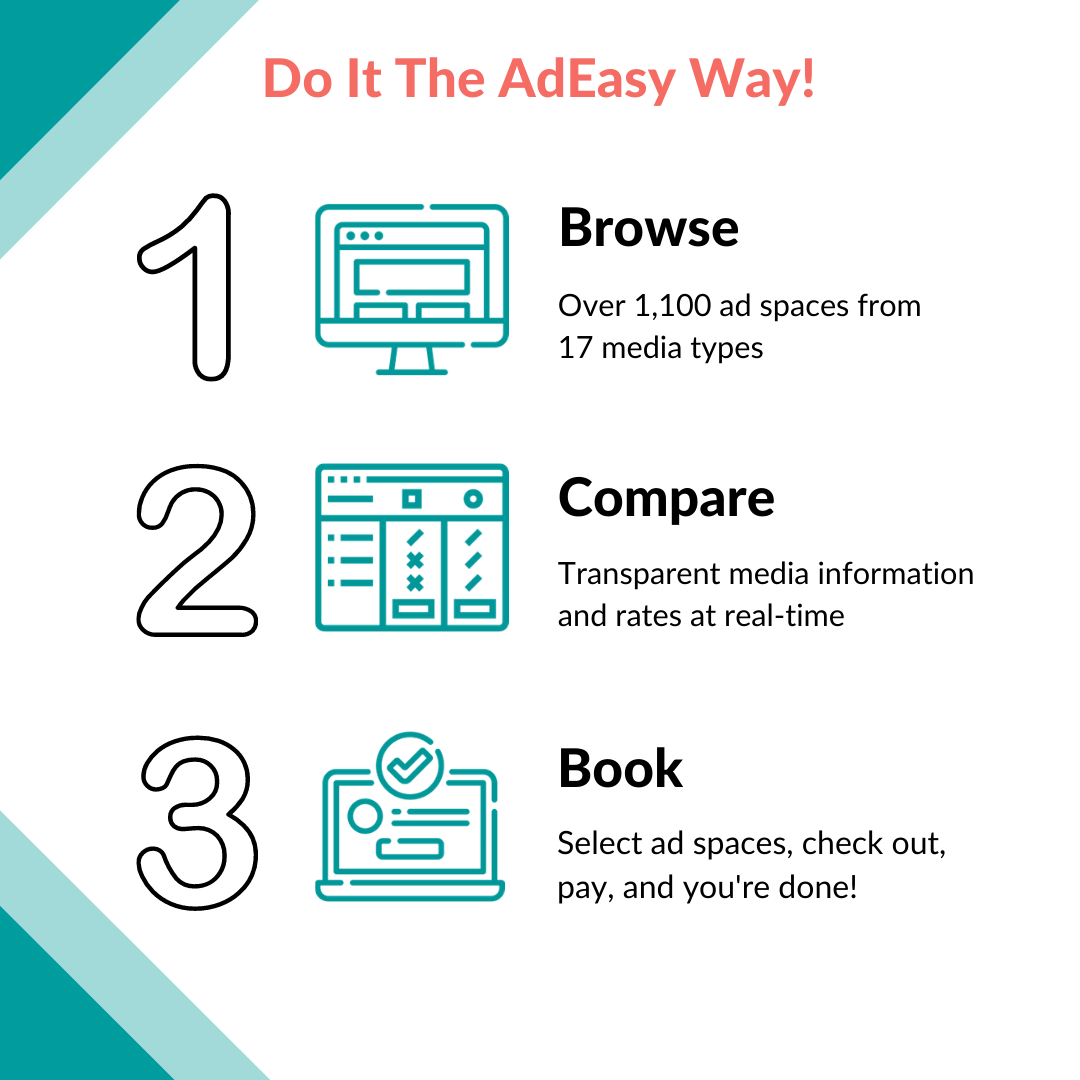 With AdEasy, you can skip the research and endless follow-ups. The platform offers a plethora of ad space selections from Malaysia's top media companies, so you'll definitely find ad spaces that work best for your brand. Sign up for a FREE account today and advertise anywhere in no time.

LIMITED-TIME OFFER: Earn 10% cashback* when you get your customised ad campaign plan from us! Click here for more info.
*T&Cs apply.