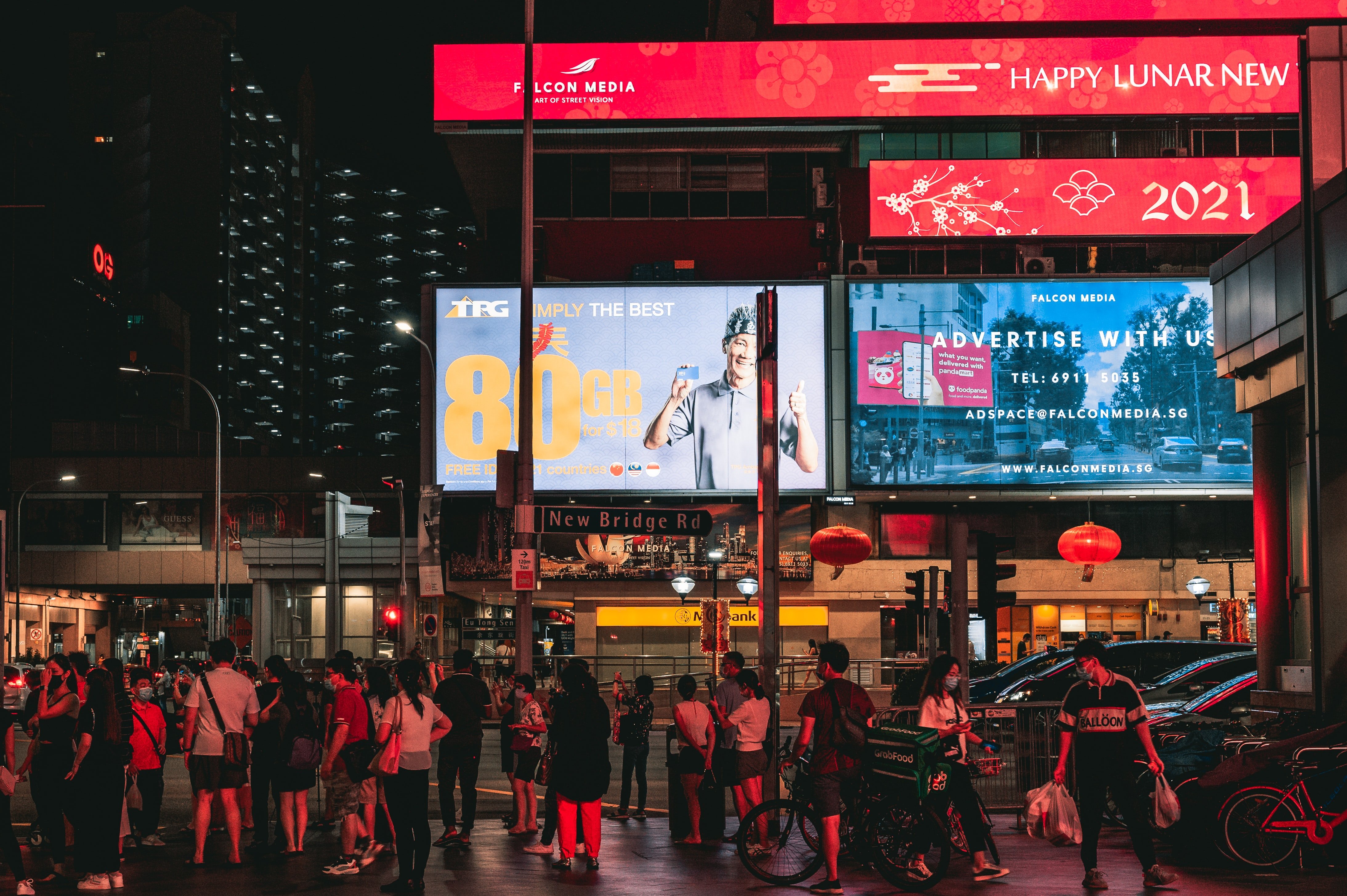 Types Of OOH Media You Need To Know
Kimberly Tan
Mention out-of-home (OOH) advertising and unsurprisingly, billboards immediately cross your mind. You're not wrong – static and digital billboards are popular OOH media choices, but did you know there's more to OOH media than just billboards? Let's take a deep dive.
OOH advertising encompasses any type of adverts that are served to consumers when they are, well, out of their homes. The reason OOH media remains popular and relevant is because of its physical (and mostly larger-than-life) presence that cuts through and draws immediate attention to your ad. With local advertising regulations in place, there is no room for unsubstantiated claims on OOH ads – making them firm favourites for long-term brand credibility-building exercises. Not sure where to begin? Here are some of the most common types of OOH advertising formats.
1) Billboard Advertising
The original (OG, if you will) OOH advertising medium. Back then, billboards only consisted of static images printed on enormous mounted canvases. Unblockable and unskippable - there is no shortage of visibility for static billboards. However, the inception of digital out-of-home (DOOH) format in the early 2000's changed the outdoor advertising scene forever. Audiences are no longer stuck with the same fixed reality. Instead, they are treated with an immersive ad-viewing experience. As for advertisers, digital billboards provide a creative outlet to present their messages with videos and animations.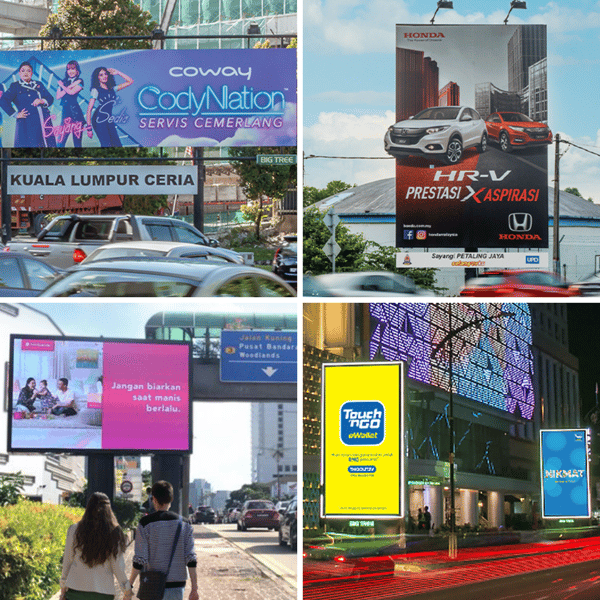 Clockwise from top left: Examples of static and digital billboards in Malaysia. Source: BigTree
Either way, billboard advertising remains relevant in the current "stay-at-home" climate. Recently, Disney pulled out all the stops to promote the launch of Disney+ Hotstar in Malaysia, which included billboards at prime locations.
2) Transit Advertising
To put it simply, transit advertising refers to ad placements on the exterior and interior of buses, taxis, trains, e-hailing and private vehicles. It also covers advertisements placed in transit hubs and stations. Public transportation is still favoured among Malaysians, especially urban dwellers, because it's an economical way to commute. Dubbed as "moving billboards", transit ads offer high visibility and prolonged exposure for businesses. They are positioned in such a way that these can't-miss advertisements travel along with the commuters.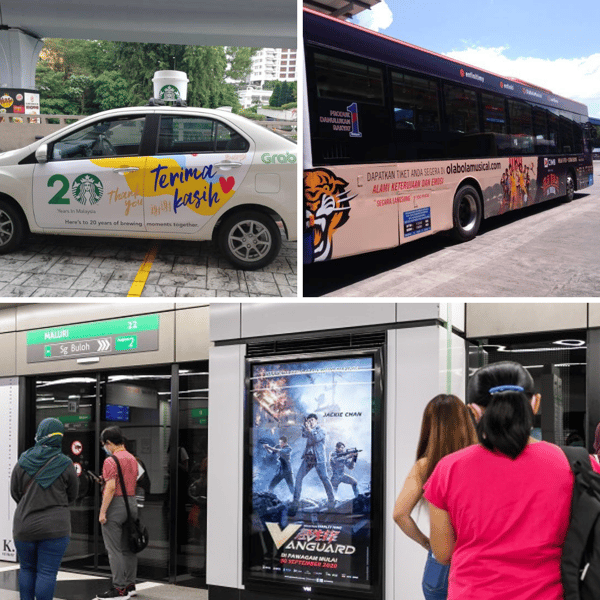 Transit ads, as seen on an e-hailing vehicle, public transport, and at a train station. Source: AdEasy
3) Place-Based Advertising
Place-based advertising lets businesses advertise in contextually relevant locations that suit their target consumers' behaviours and interests. For instance, if your brand has a physical outlet inside a shopping mall, your ads can be placed in point of purchase spots (e.g. kiosks and wall displays) to reach captive audiences, who are more likely to act on brand messages they have been exposed to while they're within the vicinity. Besides shopping malls, place-based ads are a common sight in locations like commercial premises, residential areas, gyms, universities and colleges, restaurants, and more.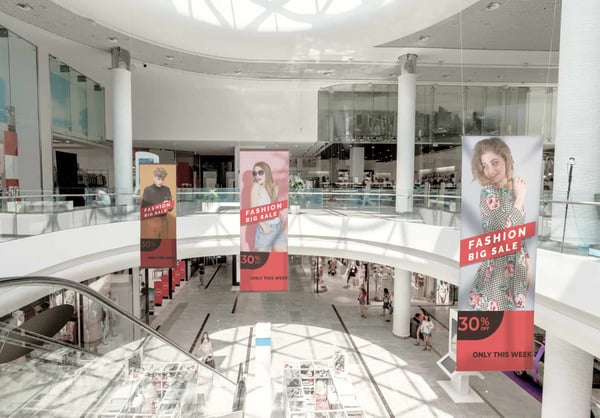 You've probably seen these huge banners in your local malls. Source: AdEasy
4) Ambient Advertising
An unconventional OOH advertising format, the appeal of ambient advertisements lies in their placements. They do not have dedicated spots like billboards and transit ads do. Ambient ads can be seen at places where you wouldn't expect to have advertisements. With the combination of an impactful copy and out-of-the-box creatives, your brand can deliver the shock factor that will certainly stop traffic. Better yet, your ad may end up going viral (that's when social media comes into play).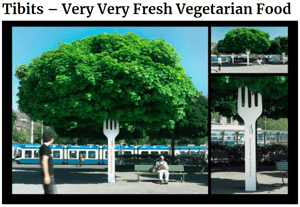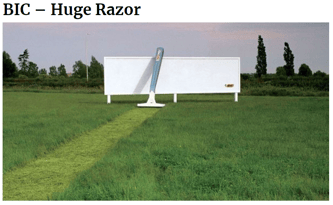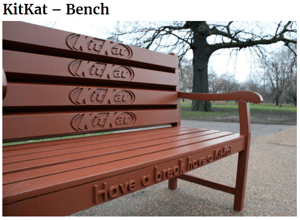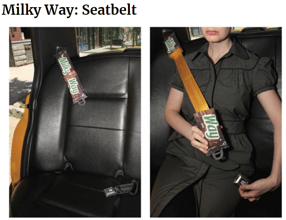 Let your creativity flow with ambient ads. Source: Bored Panda
Despite the ongoing Covid-19 pandemic, the OOH advertising expenditure (adex) in Malaysia has dwindled just slightly. Interestingly, a study showed that static billboards have outperformed digital billboards in 2020. Be it static billboard, DOOH, or transit, explore various OOH media in Malaysia on AdEasy, your one-stop ad-booking platform.