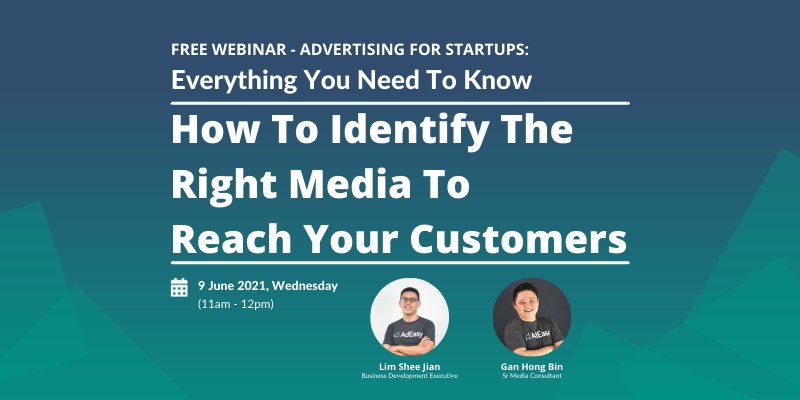 Webinar Recap: How To Identify The Right Media To Reach Your Customers
Shee Jian Lim
Missed our 9 June webinar? Here's a recap of what I shared about how to identify the right media that will reach your customers.
Advertising is an essential aspect to all types of businesses, and it's important that your ads are reaching your intended audience. The last thing you want to do is dissipate your ad spend on advertisements that don't get seen, more so in the current challenging environment. Understandably, most businesses are taking a cautious approach to advertising. However, it is not the time to go completely dark. The following quote sums it up:
"Stopping advertising to save money is like stopping your watch to save time." - Henry Ford
In part one of the webinar, I discussed three media types that exhibited a consistent and upward trend for the past five years as potential and relevant considerations for businesses in this current climate.
1. Static and Digital Billboards
A subcategory of outdoor media, static and digital billboards are most suitable for generating awareness and building credibility for your brand. Examples of some static and digital billboard formats in Malaysia are as follows: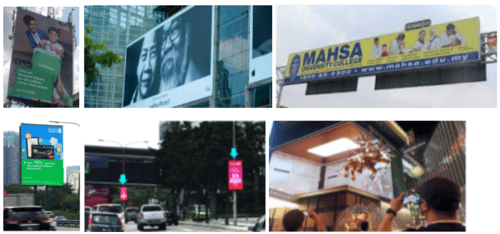 Clockwise from top left: Static unipole, static billboard, gantry, 3D screen, street e-buntings, and digital unipole.
Why should you advertise on static and digital billboards?
i) Maximum impact and visibility - The sheer size of billboard advertisements amplifies your brand message, making them eye-catching and leaves a lasting impression on your target audience.
ii) Hotspot coverage - Billboard ads are strategically placed in high traffic areas, enabling you to reach customers where they live, work, and socialise.
iii) Repeated exposure - Two words: unskippable ads. Plus, your advertisements are displayed 24/7 throughout the campaign duration. It's a win-win!
What you should know about static and digital billboards' advertising process
Each media has its own process, from booking the ad spaces till your campaign starts. The process for static and digital billboards is as follows: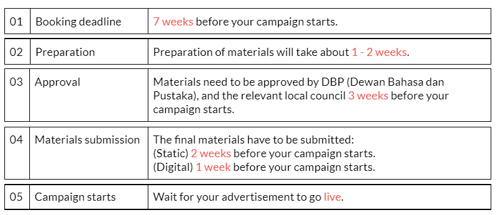 2. Radio
A radio consumption study revealed that radio has a weekly reach of 20.3 million listeners - that's 94% of the total population in Malaysia! These days, you can tune in to your favourite local radio stations online - making radio relevant in today's digital age. Radio ads boast high recall value and deliver emotional impact to listeners.
Why should you advertise on radio?
i) Reinforces your brand message - Radio ad spots are distributed evenly throughout the day (depending on your ad packages). With the high frequency, you'll be able to drive your message home.
ii) Enables targeted ads - Each radio station caters to a specific type of listener demographic. All you have to do is define your target audience and select the right radio station(s) to advertise on.
iii) Cost efficient - Radio advertising offers reach, frequency, and impact at lower costs compared to a big-budget production by other broadcast media.
What you should know about radio's advertising process
The advertising process for radio is as follows:

3. Online Media
Businesses should embrace online media to keep up with the times, and reach out to tech-savvy customers. Besides building your online presence, online advertising helps in increasing traffic to your website and generating leads. Some of the most common online ads are website banners and online advertorials. Website banners typically appear at various placements on third-party websites, whereas online advertorials are essentially paid articles that are crafted based on your direction.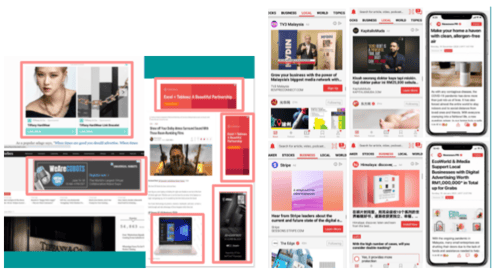 From left to right: Examples of website banner ads and online advertorials
Why should you advertise via online media?
i) High engagement - Drive immediate actions from customers with a combination of persuasive content and clear call-to-action (CTA).
ii) Cost-effective - Not only will your online ads gain thousands of impressions per day, you can also optimise your campaign based on your targeted reach and budget.
iii) Precise targeting - You get to choose which websites to advertise on, depending on the audience you intend to reach.
What you should know about online media's advertising process
The advertising process for online media is as follows:

During part two of the webinar, I introduced our strategy framework, which provides the necessary steps to narrow down the most suitable media to reach your customers.
Step 1 - Why
Determine the objective of your advertising campaign. Ask yourself what your purpose of advertising is. Your objective should ideally be specific, and measurable. For example, to increase the participation of a particular promotion by 10% in three months.
Step 2- Who
This is the most important step. Identify your ideal customer by describing them as a person. Note down their demographics, and psychographics. For example, their age, gender, occupation, interests, location, etc.
Step 3 - Where
After knowing your ideal customer, you'll be able to figure out the relevant touchpoints to reach them. For example, do they love listening to the radio? Do they browse through news sites before bedtime? Then, the touchpoints to reach them would be radio ads and online ads.
Step 4 - When
Decide on when you want to start your ad campaign, and how long you want it to run. This will narrow down your media choices due to the booking deadline of each media type.
Step 5 - What
Set a budget for your campaign. This too will help narrow down your media choices based on the ad space price.
Step 6 - How
After completing steps one through five, you would have gathered enough information to make a decision on which media type you should advertise in.
In conclusion, before you advertise, it pays to take some time to know your media and understand your customers to ensure you're spending on the right choices.
And that's a wrap from me! I hope you gained some valuable insights on how to choose the right media to reach your customers. If you want to learn more about other media types, or need help to come up with your own strategy framework, feel free to reach out to us at hello@AdEasy.co. Our consultation is always free.